JOHNSTOWN, PA (May 19, 2022) – 1ST SUMMIT BANK and the Altoona Curve are proud to announce the winners of the 2022 Teachers of the Year award. 1ST SUMMIT partnered with the Curve to recognize our area's finest teachers, honoring three special individuals who lend their passion and skills to educating the next generation.
The award winners are as follows: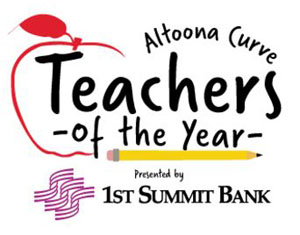 Kim Hostetler is the gifted support teacher at Forest Hills Elementary School. Ms. Hostetler's nomination stated that even though she has multiple grades within her classroom at once and things "can be a little crazy at times with everyone doing something different", it is never too crazy for her. Ms. Hostetler motivates each of her students to be the best they can possibly be.
John Wessner is a fourth-grade teacher at Foot of Ten Elementary School. Mr. Wessner's nomination said that he "makes learning and school a lot of fun and inspires students to be their best". Mr. Wessner creates exciting learning opportunities in the classroom, is actively involved in community service, and uses creativity to encourage his students.
Lindsay Kallas is a business and information technology teacher at Glendale Junior/Senior High School. Ms. Kallas' nomination stated that her classroom is "an escape from the stressfulness of school", and she is someone her students can always talk to. Ms. Kallas is known to communicate with her students as adults, not as kids, and respects them.
The three award winners were chosen out of more than 150 nominations from multiple counties.
Ms. Hostetler, Mr. Wessner, and Ms. Kallas were honored at an Altoona Curve game and received multiple gifts, including a cash prize, from 1ST SUMMIT BANK and the team. All nominees received two free tickets to a Curve game.
"Our teachers give so much of themselves, and our award recipients rose to the top as some of the best we have in our region," said Sean McCool, Public Relations & Communications Manager. "We would like to congratulate Ms. Hostetler, Ms. Wessner, and Ms. Kallas on receiving this honor."