1ST SUMMIT BANK, the Greater Johnstown Community YMCA, and MJ Daniels Trucking have teamed up to organize a donation drive to benefit residents of Mayfield, KY and surrounding communities after deadly tornadoes ravaged the area in early December. Thousands have been displaced and have been residing in camping sites at the nearby state park, hotels, and with families and friends 45+ minutes away from home.
The donation drive will take place from February 16th – March 5th with items being accepted at the Johnstown Y and select 1ST SUMMIT BANK offices. Electric blankets, small appliances, towels, and cleaning kits are just a few of the many items needed by the people who have been displaced by these tornadoes.
"The people of Johnstown are compassionate and resilient," said Eric Renner, President and CEO, 1ST SUMMIT BANK. "Who better to pitch in to help a small town than our community?"
After connecting with the Mayfield Graves County YMCA, the Johnstown Y knew it could help not just their sister YMCA, but the community as well.
"The Y's foundational mission is to empower people, to build relationships, and to help people and communities to grow and thrive," said Shawn Sebring, CEO of the Greater Johnstown Community YMCA. "This grassroots effort of loving your neighbor, regardless of where your neighbor might be, just seems like a natural fit of what our Y family can do to help."
The donated items will be packed in a truck on March 7th. MJ Daniels Trucking, LLC donated the truck and the driver to make the trek to Mayfield.
"We couldn't be more appreciative of MJ Daniels Trucking," said Renner. "Their commitment to supporting community efforts like this one is unparalleled."
The Mayfield Graves County YMCA has opened up its doors to anyone who needs showers – whether its displaced residents or volunteers who have traveled from other parts of the country to help in the clean-up efforts. They have also been selected to provide care packages for displaced residents who will receive temporary housing via RVs being supplied by the state. Their wish list includes:
Shampoo
Conditioner
Body Wash
Pillows
Bath Towels
Comforters (full and queen sizes)
Sheet Sets (full and queen sizes)
The Mayfield County Fairgrounds is the centralized distribution center to residents who have any need including food, clothing, cleaning supplies, etc. The following items are what they are seeking for their residents in need. Please note all items should be new and in unopened packaging where applicable.
Electric Blankets
Small appliances – crock pots, toaster ovens, microwaves, toasters, can openers,
Dishes/bowls (not glass)
Silverware
Bath towels
Sheet sets (all sizes)
Laundry Detergent
Fleece blankets
Hair products for the black community
non-perishable Hispanic foods
2XL and larger sized clothing
30 gallon plastic totes
Cleaning Kits – buckets with paper towels, cleaning supplies, sponges, rubber gloves
Hygiene Kits – gallon-sized Zip-lock bags with shampoo, conditioners, soap, razors, shaving cream, etc.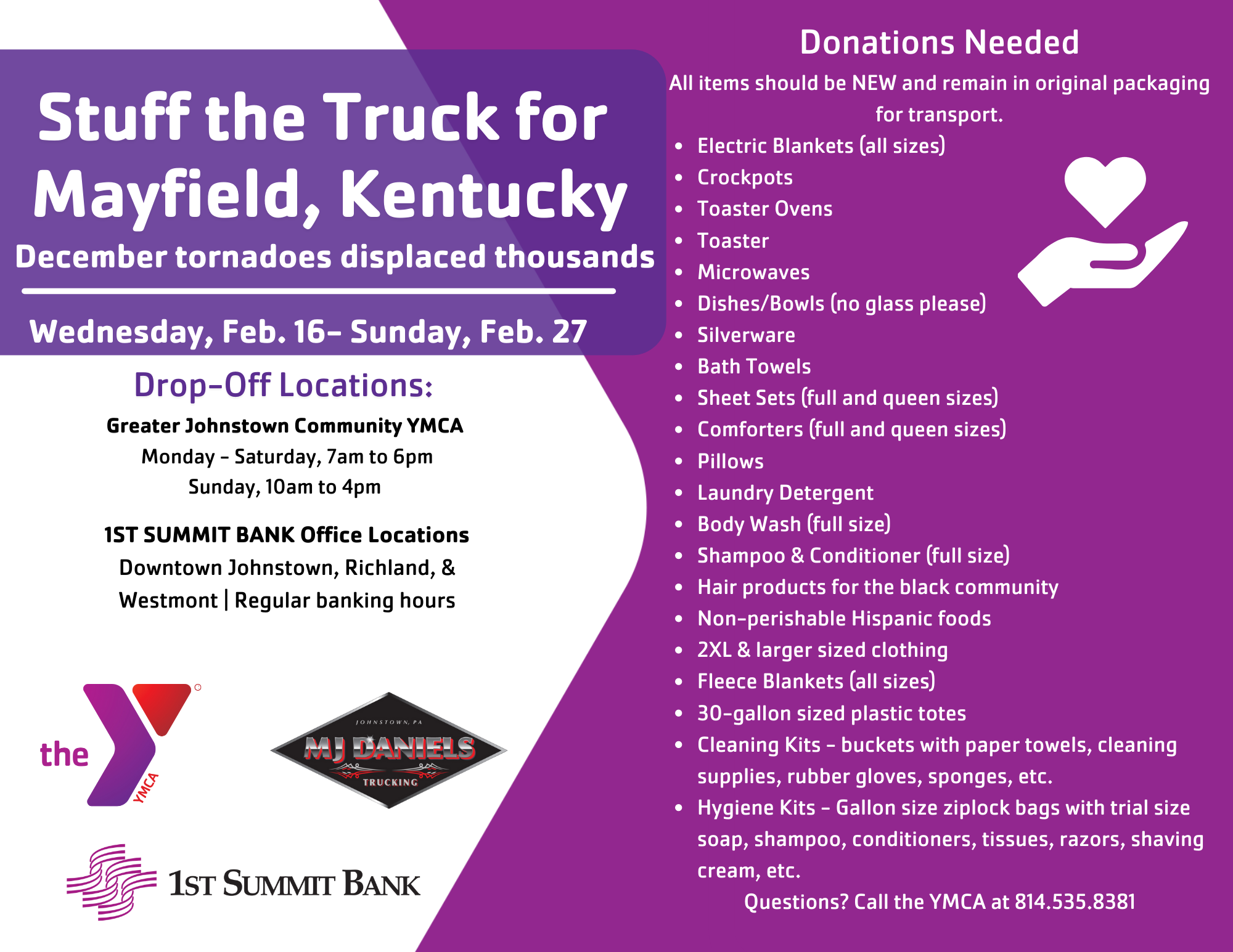 Donations will be accepted from February 16th through March 5th at the following locations:
Greater Johnstown Community YMCA 100 Haynes Street, Johnstown Mon-Sat, 7am-6pm; Sunday, 10am-4pm.
1ST SUMMIT BANK Offices in Richland, Westmont, and Downtown Johnstown during regular banking hours.
More information, including updated information throughout this process, can be found on the Greater Johnstown Community YMCA at www.johnstowpaymca.org or www.1stsummit.bank.
---
Greater Johnstown Community YMCA: Driven by its founding mission, the Y has served as a leading nonprofit committed to strengthening community for more than 150 years. The Y empowers everyone, no matter who they are or where they're from, by ensuring access to resources, relationships and opportunities for all to learn, grow and thrive. By bringing together people from different backgrounds, perspectives and generations, the Y's goal is to improve overall health and well-being, ignite youth empowerment and demonstrate the importance of connections in and across 10,000 communities nationwide.
1ST SUMMIT BANK: A true community bank for the past 97 years, 1ST SUMMIT BANK primarily focuses on relationship banking for both consumers and businesses within our region. Altogether, 1ST SUMMIT BANK provides banking, financial, and investment services throughout the counties of Cambria, Somerset, Indiana, Westmoreland, and Blair.