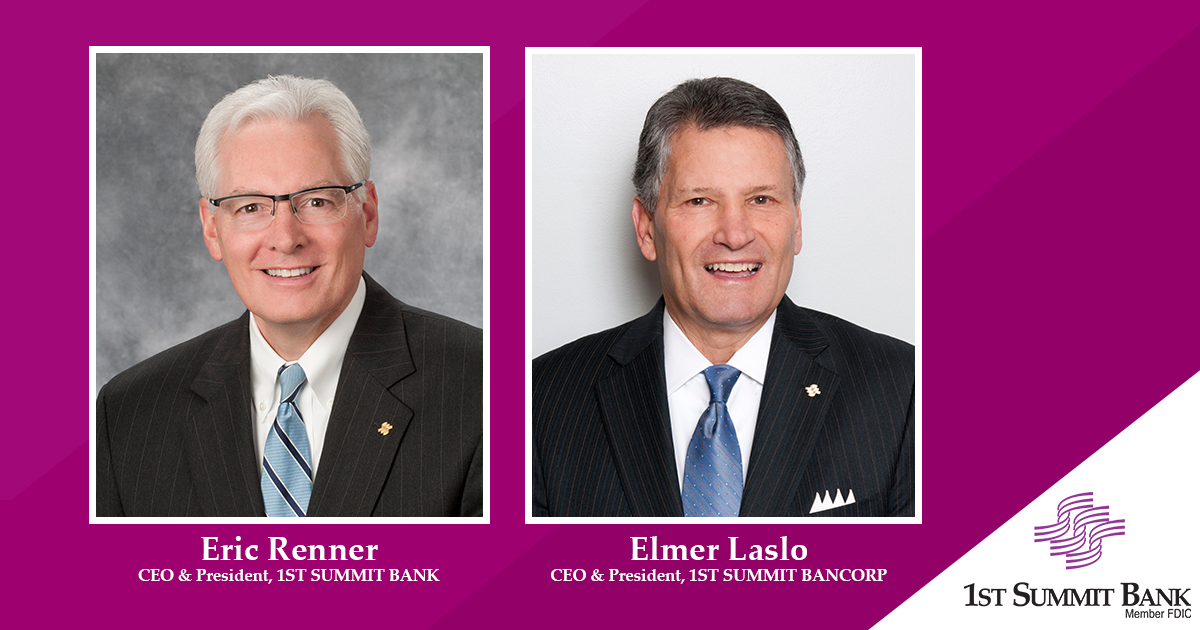 1ST SUMMIT BANK

CEO/President Eric Renner &

1ST SUMMIT

Bancorp CEO/President Elmer Laslo named to PA Business Central Top 100 People List.

1ST SUMMIT BANK is proud to announce that Eric Renner, CEO & President, and Elmer Laslo, CEO & President of the Bank's Holding Company, have been named to the Pennsylvania Business Central Top 100 People of 2022 list.

The Top 100 People list is comprised of business leaders in Central Pennsylvania whose unique contributions to the region have set them apart from the rest of the business community. According to the publication, the distinguished honorees "share a dedication to hard work, dynamic leadership, and the pursuit of excellence."

Eric Renner joined 1ST SUMMIT BANK in April of 2019 as Executive Vice President & Chief Operating Officer and was named President & CEO in June of 2020. Since earning a bachelor's degree in accounting from Robert Morris University, Mr. Renner has amassed over 35 years of banking and executive leadership experience in finance, credit, retail, and business banking. He is described as a natural leader, as well as a humble and gifted mentor. His history of building teams, cultivating leaders, and driving collaboration have led to consistent year-over-year growth.

In addition to his many professional responsibilities, Mr. Renner serves on the board of the Johnstown Symphony Orchestra, Pittsburgh Zoo & PPG Aquarium, and The Watson Institute.

Elmer C. Laslo is the President & CEO of 1ST SUMMIT Bancorp, the holding company that owns 1ST SUMMIT BANK and Value Finance Discount Company. Mr. Laslo is involved with strategy, shareholder and customer relations, and community and civic endeavors as a member of the board of directors of all three entities. He is the former President & CEO of 1ST SUMMIT BANK, retiring in 2020.

Mr. Laslo is active on many civic and non-profit boards including the Johnstown Area Heritage Association, Johnstown Area Regional Industries, and Community Arts Center of Cambria County. He is the former chair of the PA Bankers Association.

1ST SUMMIT BANK recognizes Board Member Edward J. Sheehan, Jr., President & CEO of Concurrent Technologies Corporation, for being named to the Top 100 People list, as well.
---
A true community bank for the past 97 years, 1st Summit Bank primarily focuses on relationship banking for both consumers and businesses within our region. Altogether, 1ST SUMMIT BANK provides banking, financial, and investment services throughout the counties of Cambria, Somerset, Indiana, Westmoreland, and Blair.