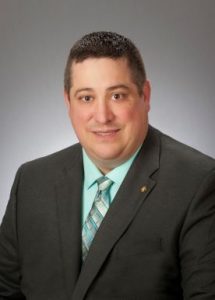 1ST SUMMIT BANK is proud to announce the promotion of Mr. Michael Paulman as Senior Vice President & Head of Commercial Banking.
With over 18 years of experience in management, lending, and credit, Mr. Paulman will oversee and manage all business development and business relationships at 1ST SUMMIT BANK. He will also lead sales and growth efforts of mortgages and consumer loans in this senior management role.
"The natural way in which Mike connects with customers makes him the perfect choice to maintain the reputation that 1ST SUMMIT has built over the years," said Eric Renner, CEO and President of 1ST SUMMIT BANK. "I am excited to have Michael Paulman in the role of leading our commercial banking efforts and as a member of our Senior Leadership Team."
Mr. Paulman began his career at 1ST SUMMIT BANK in October of 2019. He is a graduate of the University of Pittsburgh and currently resides in Meyersdale with his wife and two children.
---
About 1ST SUMMIT BANK –
A true community bank for the past 97 years, 1ST SUMMIT BANK primarily focuses on relationship banking for both consumers and businesses within our region. Altogether, 1ST SUMMIT BANK provides banking, financial, and investment services throughout the counties of Cambria, Somerset, Indiana, Westmoreland, and Blair.
In 2020, 1ST SUMMIT BANK was chosen as one of the "Best Places to Work in PA" for the 20th consecutive year and was selected as one of the "Best Banks to Work For in the U.S." by American Banker magazine.