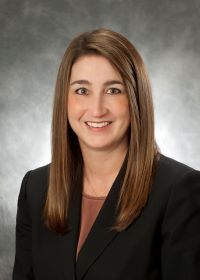 1ST SUMMIT BANK, a financial institution headquartered in Johnstown, PA, announces that Jennifer Lunden has joined its Board of Directors.  Jennifer is an attorney with Hergenroeder Rega Ewing & Kennedy, LLC, which is a residential and commercial real estate law firm based in Pittsburgh, PA with a satellite office in Murrysville, PA.
"I am pleased to share that Attorney Jennifer Lunden will be joining our 1ST SUMMIT BANK Board in January. I am excited to have Jennifer as a member of our Board and I am very much looking forward to working with her," stated Eric Renner, President & CEO of1ST SUMMIT BANK.
Jennifer graduated cum laude with a Bachelor of Science degree from Indiana University of Pennsylvania and is a lifetime member of Sigma Alpha Sorority. She then went on to earn her law degree at Capital University Law School in Columbus, Ohio.
She, her husband Bob, and their three children reside in Murrysville, PA. She volunteers in her community as a Board Member of Franklin Regional Hockey Club, Inc, and is an active member of the Mother of Sorrows Catholic Church.
Jennifer is a member of the Allegheny County Bar Association, National Association of Development Companies, and Western Pennsylvania Association of Guaranteed SBA Lenders. In addition, Jennifer is a Pennsylvania Title Agent and Solicitor of the Murrysville Economic and Community Development Corporation.
1ST SUMMIT BANK is nearing completion of its 17th Community Office, located in the Murrysville market where Attorney Lunden resides and also practices.
"We believe Jennifer will be instrumental in helping us grow our connections in this new market," said Joseph Kondisko, Chairman of 1ST SUMMIT BANK'S Board of Directors.
The new office in Murrysville is set to open for business in early February of this year.