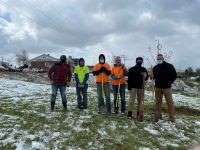 In alignment with the bank's commitment to the Johnstown community and to do their part to keep it beautiful, 1ST SUMMIT partnered with SEADS Garden Center to plant trees at the Richland branch to celebrate Earth Day.
SEADS is a nonprofit nursery and garden center in Westmont with a mission to provide "Sustainable Employment for Adults with Disabilities".
Bank employees were joined by workers from SEADS to plant three crimson red maple trees between an employee parking lot and Route 219.
"We wanted to find a project that would not only benefit the environment and what Earth Day stands for, but also to get involved with a community partner that makes a difference," said Sean McCool, Public Relations & Communications Manager.
As a community focused bank, 1ST SUMMIT BANK cares about the communities they serve. Earth Day provides a great opportunity to be sure the environment is cared for, as well.
"Everything we do is community-minded, not only from a financial standpoint, but we care about the people in this community, so we want to continue to find ways to benefit our region," McCool said.
Your Comment Please: