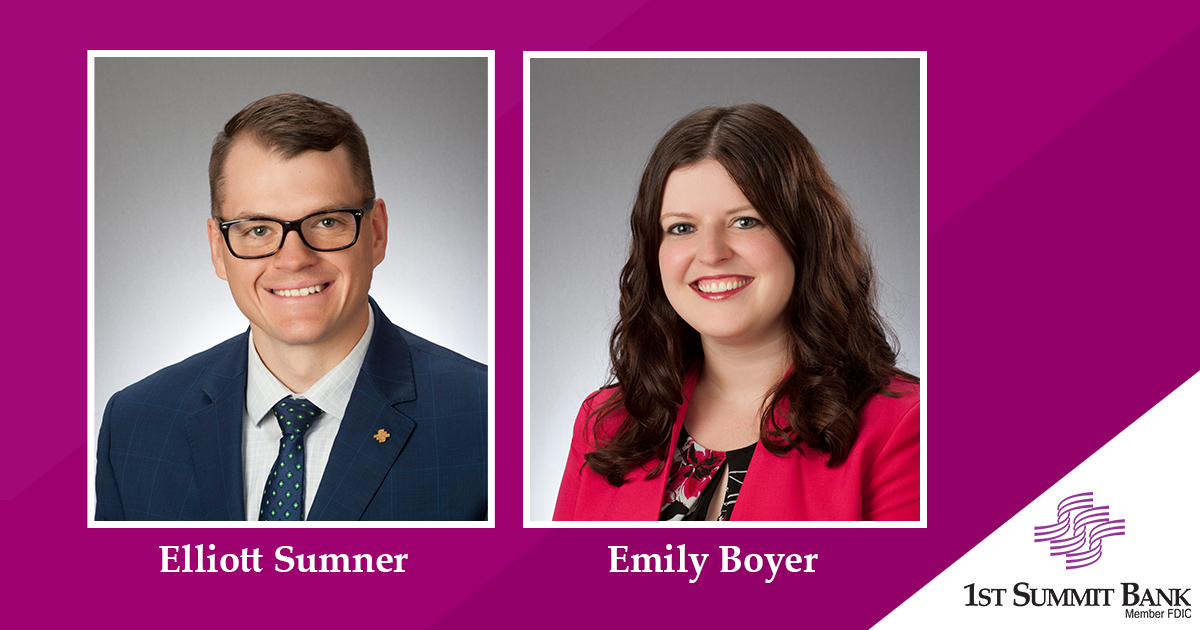 1ST SUMMIT BANK is proud to announce that Emily Boyer, Customer Service Officer, and Elliott Sumner, Information Systems Officer, have been named to two honorary lists by Pennsylvania Business Central. Boyer has been recognized on the publication's annual Signature Leaders Under 30 list, while Sumner was one of 42 young professionals honored in their Foremost Under 40 list.
Signature Leaders Under 30 Leader Lists
Emily Boyer was one of 18 honorees for the Signature Leaders Under 30 award. The selection committee based its final selections on nominees who have made a positive impact in the Central Pennsylvania business community by consistently moving their business forward, adapting to major changes in their personal and professional life, and giving back to the community through volunteering or mentoring.
Emily has been at 1ST SUMMIT BANK for 11 years, starting as a Customer Service Representative and working her way to becoming a Customer Service Officer. She is a 2018 graduate of the Cambria Regional Chamber's John B. Gunter Leadership Initiative.
"We are so proud of Emily for receiving this well-deserved recognition," said Polly Previte, Senior Vice President & Head of Retail Banking. "She is a role model to others, and she's always setting a great example for our up-and-coming leaders at the bank."
Foremost Under 40 Leader Lists
Elliott Sumner was chosen as a Foremost Under 40 honoree, exemplifying the vision, drive, and determination needed to find success in a business environment that has dramatically changed over the past two years. He was chosen out of a long list of nominees from a 24-county readership and service area.
Elliott has been at 1ST SUMMIT BANK for five years, beginning his career as a Network Engineer and now a Vice President & Information Systems Officer. He earned a Bachelor of Science degree in Management Information Systems from Saint Francis University, where he is currently pursuing a Master's degree.
"Elliott has taken on increasingly challenging roles of responsibility and leadership within the Bank," said Tim Smith, Senior Vice President & Chief Information Officer. "His positive effect on other professionals in the organization plays a large part in achieving desired and effective results."
PA Business Central is a business-to-business resource that reaches over 35,000 readers in Central Pennsylvania.
---
About 1ST SUMMIT BANK –
 A true community bank for the past 97 years, 1st Summit Bank primarily focuses on relationship banking for both consumers and businesses within our region. Altogether, 1ST SUMMIT BANK provides banking, financial, and investment services throughout the counties of Cambria, Somerset, Indiana, Westmoreland, and Blair.