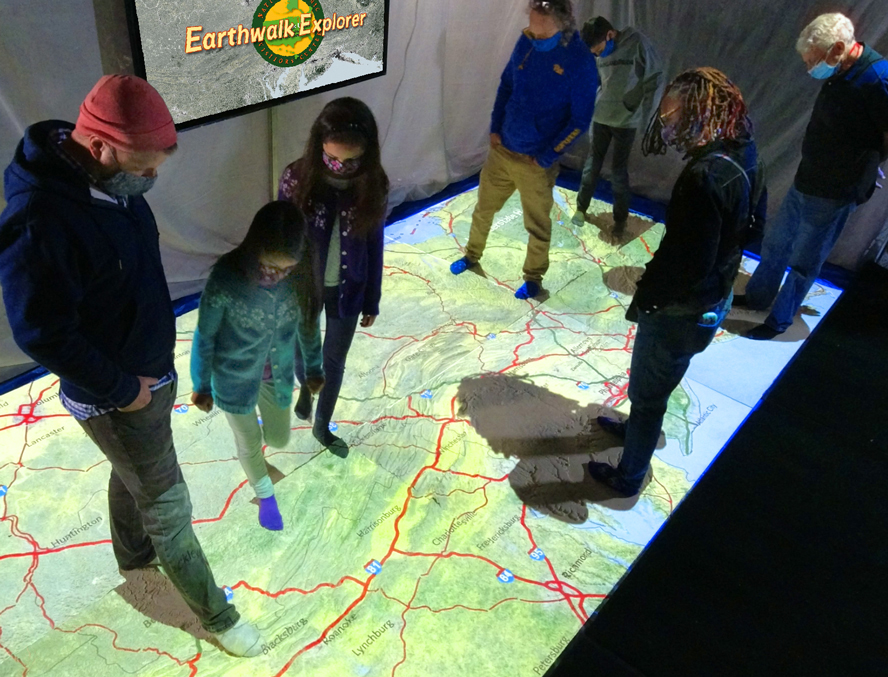 JOHNSTOWN, PA (June 16, 2021) – 1ST SUMMIT BANK is proud to be a lead sponsor for the new exhibit that is opening at the Heritage Discovery Center on June 18th.
The temporary exhibition, Earthwalk Explorer, is a 16-foot long relief map of the eastern US from North Carolina to New Hampshire that adults and children can walk on and explore through touch.
Visitors to Earthwalk Explorer will experience projections of mountain ranges, forests, rivers and lakes, state borders, cities, trails, and cultural features. Putting their "feet to earth," they can trek across the spines of the Blue Ridge Mountains, the Alleghenies, or Adirondacks, or follow the river valleys of the Susquehanna, James, or Hudson. They can touch the highest point in the state with their fingers or point out their hometowns with their toes. The Explorer uses a horizontal scale of 1 inch = 3.88 miles.
Earthwalk Explorer features colorful Geoshows projected onto the map to tell stories that combine geography, history, and culture — one showing the network of Native American trails that later formed the foundation of the US interstate highway network, and one showing the rich legacy of the Lenape and Susquehannock tribes.
An effort spearheaded by The Learning Lamp, the exhibition will be at the Heritage Discovery Center through mid-August and is included in the regular admission ticket to the museum. To walk on the exhibition, visitors must wear socks (which will be available for purchase in the gift shop for anyone who forgets).
The Heritage Discovery Center's hours are now 10:00 am-5:00 pm on Wednesdays-Saturdays, and noon-5:00 pm on Sundays.
1ST SUMMIT BANK is proudly committed to the communities in which it serves and recognizes the importance of family-friendly opportunities in the region.
For more information, please visit the Johnstown Area Heritage Association website.