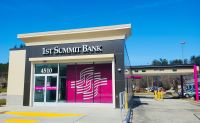 1ST SUMMIT BANK opens a 17th Community Office in Murrysville, PA, the third location in Westmoreland County, with its other locations covering Cambria, Somerset, Indiana, and Blair Counties. A financial institution that prides itself on its uniquely personal approach to banking, they strive for customer delight rather than settling for customer satisfaction.
Their state-of-the-art electronic and mobile banking capabilities are engineered for convenient and easy use 24/7.
J. Eric Renner, 1ST SUMMIT BANK's CEO and President stated, "The Murrysville area presents unlimited growth opportunities and we are looking forward to assisting in its expansion. We're excited for our new neighbors to come and Experience the Difference 1ST SUMMIT has to
offer."
Managed by Melissa Bartolomeo, Senior Personal Banking Officer, this new office is conveniently located at 4510 William Penn Highway, right at the corner of Route 22 and Tarr Hollow Road.
For 96 years and counting, 1ST SUMMIT remains fully invested in the success of its communities. They believe in the dedicated support of local small businesses and in the community's charitable and cultural organizations.
This belief, partnered with their extensive array of financial solutions for business and personal
needs, makes them a valuable asset to the growth of Murrysville.
Experience the Difference at 1ST SUMMIT BANK