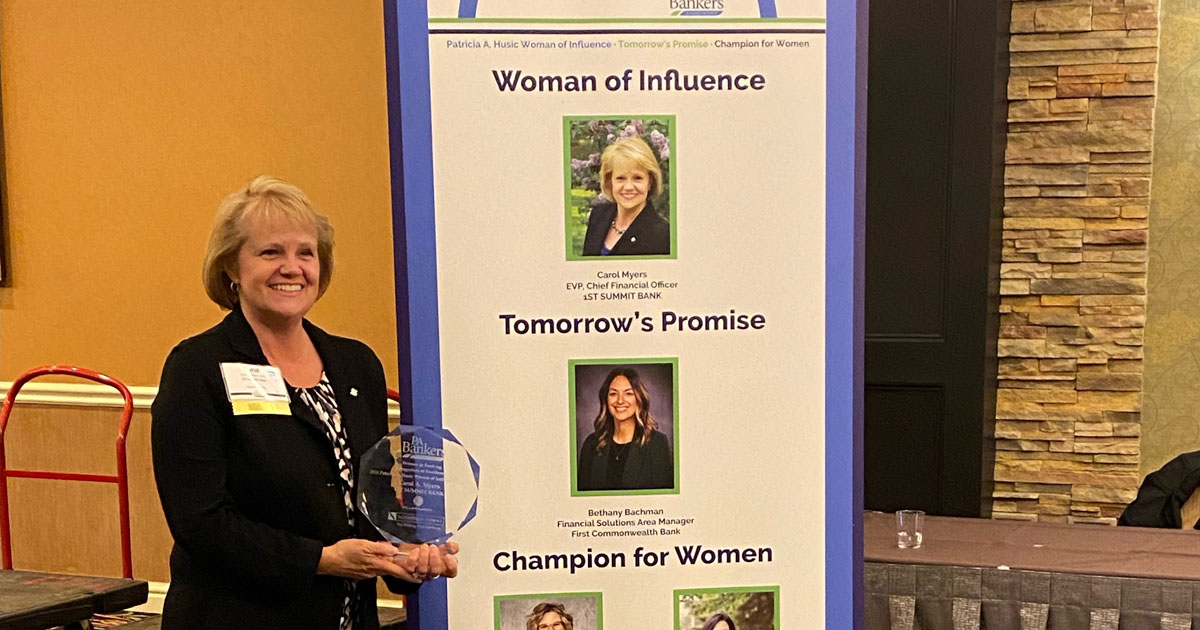 HARRISBURG, PA (May 4, 2022) – Carol A. Myers, Chief Financial Officer at 1ST SUMMIT BANK, was honored with the Patricia A. Husic Woman of Influence Award at the Pennsylvania Bankers Association's (PA Bankers') annual Women in Banking Conference on May 2, 2022.
The Patricia A. Husic Woman of Influence Award is presented as part of PA Bankers' Women in Banking Recognition of Excellence Program, which is dedicated to honoring men and women in the banking industry who promote and inspire women in the workplace to reach their full potential.
Named in honor of the founder of PA Bankers' Women in Banking initiative, Patricia A. Husic, President & CEO of Centric Bank in Harrisburg, the award celebrates a woman who has achieved success within a leadership role and who displays qualities of courage, values, and ethics. The recipient demonstrates undeniable enthusiasm for the industry, her institution, and the community in which she lives and works.
Carol A. Myers, of Johnstown, is Executive Vice President and Senior Chief Financial Officer of 1ST SUMMIT BANK and Executive Vice President and Treasurer of 1ST SUMMIT BANCORP. Myers has been with the bank since 1997 where, on her watch, the company has grown from $170 Million in assets to over $1.3 Billion.
"I am honored to receive this award," said Myers. "PA Bankers and Patty Husic have created this important forum for women to recognize and network with each other. To be mentioned as a woman of influence in the field is extremely humbling."
1ST SUMMIT BANK CEO & President Eric Renner, who nominated Myers for the award, says her core values and strong ethics make her an excellent leader and role models for others.
"Carol's commitment to both 1ST SUMMIT BANK and our community is evident by her work and time spent," said Renner. "Nobody works harder to keep the company strong financially year over year."
Myers currently serves as Treasurer of Zion Lutheran Church in Johnstown. She has also served as a board member or volunteer for a myriad of other organizations like the United Way of the Laurel Highlands, University of Pittsburgh at Johnstown, Choices-People Supporting People, and United Cerebral Palsy of the Southern Alleghenies.
"She is a visible leader at the bank and also in the community," said Renner. "She doesn't just stop within the walls of the bank."
Myers is married to David, has three married children and step-children, and has four grandchildren.
---
About 1ST SUMMIT BANK  –
 A true community bank for the past 97 years, 1ST SUMMIT BANK primarily focuses on relationship banking for both consumers and businesses within our region. Altogether, 1ST SUMMIT BANK provides banking, financial, and investment services throughout the counties of Cambria, Somerset, Indiana, Westmoreland, and Blair.
About PA Bankers Association –
PA Bankers has been bringing banks and bankers together for more than 125 years to learn, grow, serve, and engage with their peers, communities, and lawmakers. The association has built a strong reputation as a leading advocate for pro-banking policies at the state and federal levels, as well as the delivery of quality education, products, and services for banks of all sizes and their employees.
---