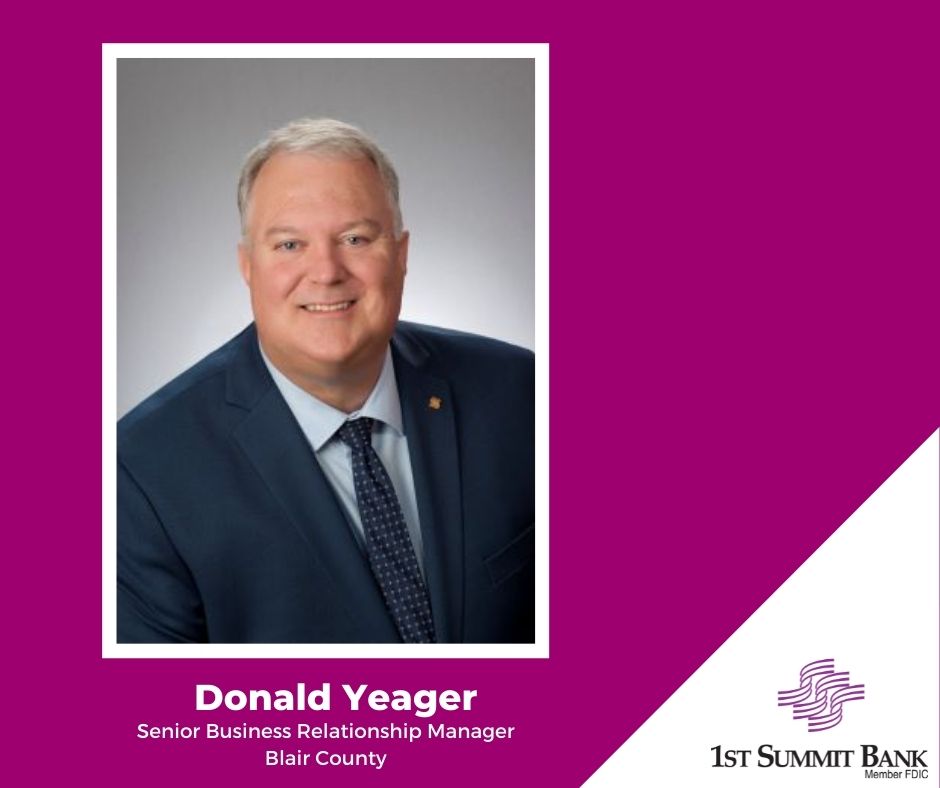 1ST SUMMIT BANK is proud to announce the appointment of Donald Yeager as Senior Business Relationship Manager at the bank's new Loan Production Office in Hollidaysburg.
As Senior Vice President & Senior Business Relationship Manager, Mr. Yeager is responsible for commercial business development and growing the bank's presence in Blair County. Mr. Yeager also serves as 1ST SUMMIT BANK's Public Funds Officer, responsible for relationships with school districts, municipalities, and cities.
Mr. Yeager has been in the banking industry for over 38 years and has spent more than 18 years at 1ST SUMMIT BANK. He is a graduate of the Central Atlantic Advanced School of Banking and the Stonier Graduate School of Banking.
Currently, Mr. Yeager serves as a board member for the Blair County Chamber Foundation, Connexus Human Services Network, and IUP Eberly College of Business. He resides in Duncansville with his wife, Lynn.
1ST SUMMIT BANK's new Loan Production Office is located at 310 Penn Street in Hollidaysburg.

---
About 1ST SUMMIT BANK –
A true community bank for the past 97 years, 1st Summit Bank primarily focuses on relationship banking for both consumers and businesses within our region. Altogether, 1st Summit Bank provides banking, financial, and investment services throughout the counties of Cambria, Somerset, Indiana, Westmoreland, and Blair.