Home Equity Line of Credit
Home Equity Line of Credit 6-month Introductory Rate of 1.95% APR*
If you want to start a home improvement project or consolidate bills, we can help with a home equity line of credit from 1ST SUMMIT BANK.
Have A Professional Contact You
What is a Home Equity Line of Credit?
A Home Equity Line of Credit acts much like a credit card, a revolving line of credit. You draw the amount of money you need, pay it back, and then borrow again.
If you aren't sure which do-it-yourself project you are going to tackle first or if you want to start multiple projects at one time without knowing the exact cost of any of them, a line of credit is an option to consider.
If you want readily available cash in case of emergencies, a line of credit is a viable option.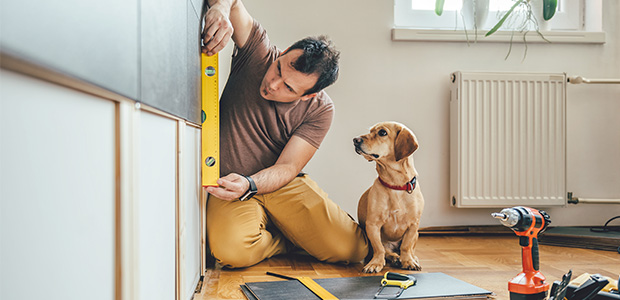 Loan Calculator
Home Equity Line of Credit Get an estimate on how much you can borrow on a Line of Credit with this handy calculator. The loan amount is based on the difference between the home's current market value and the mortgage balance due.
---
Differences Between a Home Equity Line of Credit and a Home Equity Loan
There are two types of home loans you can apply for: a Home Equity Line of Credit (commonly called a HELOC) or a Home Equity Loan.
Both loans are secured using the value of your home. You are, in essence, converting the equity in your home to cash. Use that cash to make improvements and you could end up increasing the value of your home.
We Can Review Your Options With You
---
Locations
With 17 locations, we are conveniently located in your neighborhood.
Find a 1ST SUMMIT Near You
---
Voted "Simply the Best Bank" for 12 consecutive years, and counting, by The Tribune-Democrat readers.
---
* Subject to credit approval.  Offer available for applications submitted from September 15, 2022 through October 31, 2022.  Offer may be changed or discontinued at any time.  Offer requires a minimum new money line or line increase and withdraw of $10,000 with an automatic funds transfer (AFT) from a 1st Summit Bank checking account.  To qualify for promotional offer, credit score of 700+ is required.  Combined maximum loan-to-value ratio is 80%.  Property insurance required. 
The introductory period begins on the date of account opening.  After the 1.95% Annual Percentage Rate (APR) 6-month introductory period, the Home Equity Line of Credit will be a variable rate based on Prime Rate as published in the Wall Street Journal (5.50% current as of this publication date) as either the Going Rate (Prime+.50%) or the Relationship Rate (Prime +0%), as determined by the relationship at the opening of the account. To qualify for the Relationship Rate, customer must have at least four unique account services with 1st Summit Bank. The maximum rate is 18.00% and the minimum rate/floor is 2.5% APR. 
For Home Equity Lines of Credit where collateral property is located within Pennsylvania, origination fees are waived, and automated valuation, credit, title and other processing fees are paid by the bank. Maximum loan amount of $250K to qualify for no processing fees. Customer is responsible for the expense associated with a professional appraiser. A professional appraisal is required if the property is in a flood zone (SFHA) and may also be required by the bank or requested by the customer to confirm property value.  HELOC charged a $25 annual maintenance fee.