Home Equity Loan or Home Equity Line of Credit
Use your home's equity to refinance your mortgage!
Put your home's value to work for you. If you want to refinance your high-interest mortgage, start a do-it-yourself home improvement project, or consolidate bills, we can help with a home equity loan from 1ST SUMMIT BANK.
With rates at a historic low, now is a great time to borrow and we've sweetened the deal with No Processing Fees*!
Differences Between a Home Equity Line of Credit and a Home Equity Loan
There are two types of home loans you can apply for: a Home Equity Line of Credit (commonly called a HELOC) or a Home Equity Loan.
Both loans are secured using the value of your home. You are, in essence, converting the equity in your home into cash. Use that cash to make improvements and you could end up increasing the value of your home.
---
Do you need a Home Equity Line of Credit or a Home Equity Loan? We've outlined the differences between both loans in this helpful infographic: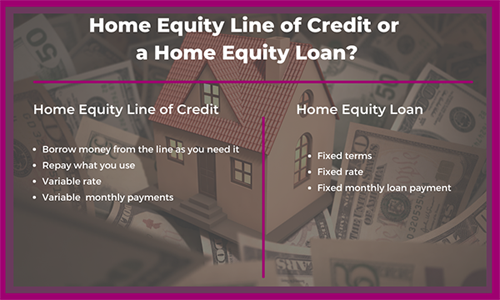 ---
What is a Home Equity Line of Credit?
A Home Equity Line of Credit acts much like a credit card, a revolving line of credit. You draw the amount of money you need, pay it back, and then borrow again. There's a fixed term (usually 5 to 10 years) for how often you can borrow and repay the loan. The interest rate is variable.
If you aren't sure which do-it-yourself project you are going to tackle first or if you want to start multiple projects at one time without knowing the exact cost of any of them, a line of credit is an option to consider.
If you want readily available cash in case of emergencies, a line of credit is a viable option.
What is a Home Equity Loan?
With a Home Equity Loan, all the funds are delivered in one, single, lump sum. The loan has a fixed repayment term with a fixed monthly repayment amount and a fixed interest rate.
If you know exactly how much each do-it-yourself project is going to cost and you want to keep your monthly payments consistent, this type of home loan is the option to consider.
If you want to consolidate bills of a known dollar value, a home equity loan is an excellent choice to consider.
We Can Review Your Options With You
Loan Calculator
Home Equity Credit Line Get an estimate on how much you can borrow on a Line of Credit with this handy calculator. The loan amount is based on the difference between the home's current market value and the mortgage balance due.
Loan Rates
Take advantage of our current home loan rates and set up a home loan today.
---
Our Professionals are waiting to assist you.
Voted "Simply the Best Bank" for 12 consecutive years, and counting, by The Tribune-Democrat readers.
---
Subject to credit approval. Other rates and terms are available. Offer may be changed or discontinued at any time.
*A minimum loan of $10,000 with an automatic funds transfer (AFT) from a 1ST SUMMIT BANK checking account is required. To qualify for promotional offer, Credit Score of 700+ is
required for Home Equity Loan or Line of Credit. Maximum loan-to-value ratio is 80%. 1ST SUMMIT BANK customers refinancing an existing home equity loan or line will need to
increase the loan by $10,000 or more in new money. Property insurance required. A professional appraisal is required for property in a flood zone (SFHA). The appraisal fee will be at
the property owners' expense.
The Home Equity Line of Credit will be a variable rate based on Prime Rate as published in the Wall Street Journal. The maximum Annual Percentage Rate is 18% and the minimum rate/floor is 2.50% APR. The introductory period begins on the date of account opening.
Home Equity Lines of Credit are charged $25 maintenance fee annually.
Minimum loan of $10,000 is required. Maximum term of 120 months. 2.49% Annual Percentage Rate (APR) is a fixed rate for the length of the term.
Subject to approval at the time of the Home Equity Loan or Line of Credit.