Mortgage and Home Loan Rates
1ST SUMMIT

offers competitive Mortgage and Home Loan rates.

Our great Mortgage and Home Loan rates plus our unparalleled customer service are what differentiate us from our competitors.

Whether you want to buy a new home, make improvements to your current home, or use the equity in your home to finance a project like college tuition, 1ST SUMMIT BANK will go the extra mile to help you attain those dreams and goals.

Our Home Equity Loan rates and our Home Equity Line of Credit rates will help make your home improvement projects a reality! Quit dreaming and start doing!

Contact us today and get started on making your dreams a reality.

Let's Talk About Your Loan Options
---
The Rates are accurate as of Thursday, September 29, 2022
---
Residential Mortgage Loans
First Lien Owner Occupied

Great "Going" Rates

Best "Relationship" Rates*

First Time Home Buyer Rate/APR**

RATE

APR

RATE

APR

RATE/APR

<= 180 months

5.49%

5.529%

5.24%

5.278%

5.375%

181-240 months

5.74

5.771%

5.49%

5.520%

5.625%

241-360 months

6.24%

6.264%

5.99%

6.013%

6.125%
---
Home Equity Term Loan***
| First Lien Owner Occupied | Great "Going" Rates | Best "Relationship" Rates* |
| --- | --- | --- |
| | RATE/APR | RATE/APR |
| 12-120 months | 4.74% | 4.49% |
| 121-180 months | 5.24% | 4.99% |
| Junior Lien - Owner Occupied Real Estate Only | Great "Going" Rates | Best "Relationship" Rates* |
| --- | --- | --- |
| | RATE/APR | RATE/APR |
| 60 months or less | 4.74% | 4.49% |
| 61-120 months | 4.99% | 4.74% |
| 121-180 months | 5.49% | 5.24% |
| Sewer Line Upgrade Program-Unsecured | RATE |
| --- | --- |
| up to 60 months | 6.74%* |
| | |
Available for sewer upgrade projects only. Maximum $7,500 loan amount. Proceeds are paid to the contractor; 1/2 up front and 1/2 when work is completed to customer satisfaction. Signed contract/bill of sale for work to be completed is required.
*
AFT from 1ST SUMMIT checking required.
$36.50 document preparation fees apply.
Subject to credit approval.
Minimum 700 credit score required to receive rate.
---
Home Equity Line of Credit***
| | Great "Going" Rates | Best "Relationship" Rates* |
| --- | --- | --- |
| Variable Rate**** | RATE/APR | RATE/APR |
| | NY Prime + .50% (Currently 6.75%) | NY Prime + 0.0% (Currently 6.25%) |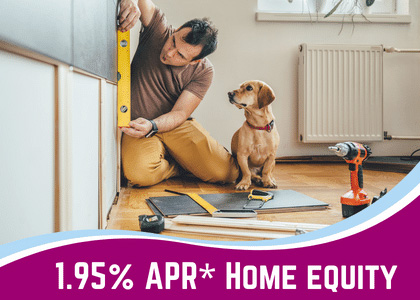 ---
Let's Talk About Your Options
---
These rates are based on a credit review and your rate may be higher based on your credit score, property type, loan to value and mortgage product. If the loan exceeds $250,000, title insurance is required. 
The example mortgage Annual Percentage Rates shown above are based on loans secured by a single-family primary residence and are calculated using a $100,000 loan amount at 80% loan-to-value (LTV).
*Relationship Rate: Available to customer who has four or more unique services with the bank, including the new loan/line. Services include Consumer Checking, Business Checking, Savings, Smart Savers Account, Money Market, Holiday Club, Certificate of Deposit, Credit Card Merchant Service, Mortgage Loan, Personal Line/Loan, VISA® Credit Card, Commercial Line/Loan, Trust/Estate, Brokerage, Safe Deposit Box. 
** First Time Home Buyer Program: 0% Origination Fee and $0.00 Document Preparation fee.
*** For Home Equity Loans & Lines of Credit where collateral property is located within Pennsylvania, origination fees are waived, and automated valuation, credit, title and other processing fees are paid by the bank. Customer is responsible for the expense associated with a professional appraiser. A professional appraisal is required if the property is in a flood zone and may also be required by the bank or requested by the customer to confirm property value.  AFT from 1st Summit checking account required for Relationship Rate. HELOC charged a $25 annual maintenance fee. 
****Variable rate on the Line of Credit based on NY Prime rate and has a floor rate of 2.50% and the maximum rate is 18%. 
All of the above rates are subject to change and are provided for informational purposes only. Rate is available with a minimum F.I.C.O. credit score of 700 to qualify. Rates and terms are subject to borrower qualifications. Other terms and rates are available. The term APR represents Annual Percentage Rate.