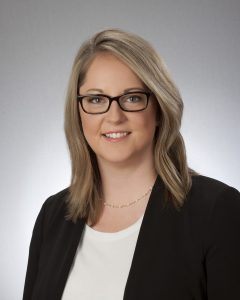 1ST SUMMIT BANK is proud to announce the appointment of Ms. Alysha McCauley as Assistant Vice President and Senior Personal Banking Officer at our Latrobe Community Office.
Ms. McCauley will oversee daily operations and ensure an exceptional customer experience at the 1ST SUMMIT BANK Latrobe Community Office. She and her team look forward to partnering with families and businesses in Latrobe and the surrounding communities to simplify banking needs and achieve personalized financial goals.
"We're so excited to have Alysha on board at our Latrobe office," said Polly Previte, Senior Vice President and Head of Retail Banking. "She brings expertise to the bank that will help us grow and deepen relationships in Westmoreland County."
Ms. McCauley has nine years of banking experience with a focus on consumer and small business lending. She holds a Bachelor of Arts in Business Management with a concentration in Marketing from the University of Pittsburgh at Johnstown.
Ms. McCauley lives in Fairfield Township with her husband and two children. She serves as a board member of the West Fairfield Community Center.
---
About 1ST SUMMIT BANK –
A true community bank for the past 97 years, 1ST SUMMIT BANK primarily focuses on relationship banking for both consumers and businesses within our region. Altogether, 1ST SUMMIT BANK provides banking, financial, and investment services throughout the counties of Cambria, Somerset, Indiana, Westmoreland, and Blair.
In 2020, 1ST SUMMIT BANK was chosen as one of the "Best Places to Work in PA" for the 20th consecutive year and was selected as one of the "Best Banks to Work For in the U.S." by American Banker magazine.