Our History
For 99 years and counting, 1st Summit Bank has been the provider of premier financial relationships in Western Pennsylvania.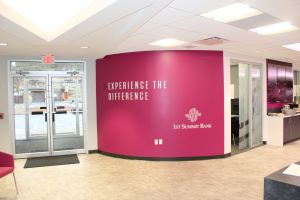 From our humble beginning in a small town to our innovative design in the digital age, we have never lost the grassroots heart of a true community bank.
We are invested in the neighborhoods we serve. We care about what our customers care about and make it a point to put our "thank you for your business" into action.
1924 – Our bank was established as Salix State Bank in Dunlo, PA, and survived the 1929 stock market crash.
1974 – Sidman, Salix, and Beaverdale Offices opened as we celebrated 50 years in business.
1980 – Our Richland office opened and became our corporate office.
1982 – We became Summit Bank.
1989 – Trust and Investment Division was established.
1990 – We expanded our presence into Downtown Johnstown, Portage, and Westmont. Assets exceeded $100 million.
1996 – Opened our 7th office in Cresson. Summit Bancorp and Summit Bank became 1ST SUMMIT BANCORP and 1ST SUMMIT BANK.
1997 – Park Hill, our 8th office, opened followed by our Somerset and Indiana offices.
2004 – The bank expanded with our first "in-store" offices at the Johnstown and Altoona Walmart Supercenters.
2005 – A 3rd "in-store" office opened within the Greensburg Walmart, establishing our first Westmoreland County office. Assets grew to $679 million by end of 2010.
2013 & 2016 – We expanded into Latrobe and Ebensburg.
2019 – 1ST SUMMIT BANK celebrated its 95th Anniversary. We renovated our Richland Corporate Office into the sleek, contemporary design we have today.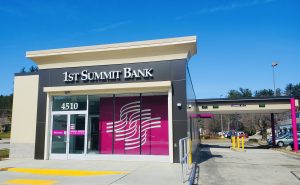 2021 – Our 17th office in Murrysville, PA opened.
We look forward to serving the customers of this fast-growing suburb of Pittsburgh.
Currently, the bank has over $1.2 billion assets. For more information on 1st Summit Banks's financial standing, view our 2022 Annual Report.
1st Summit Bank Recognitions:
Extraordinary Banking™ Awards
Best Places to Work in PA
Best Banks to Work For
Top 200 Community Banks
Top 100 Organizations
Simply the Best Bank