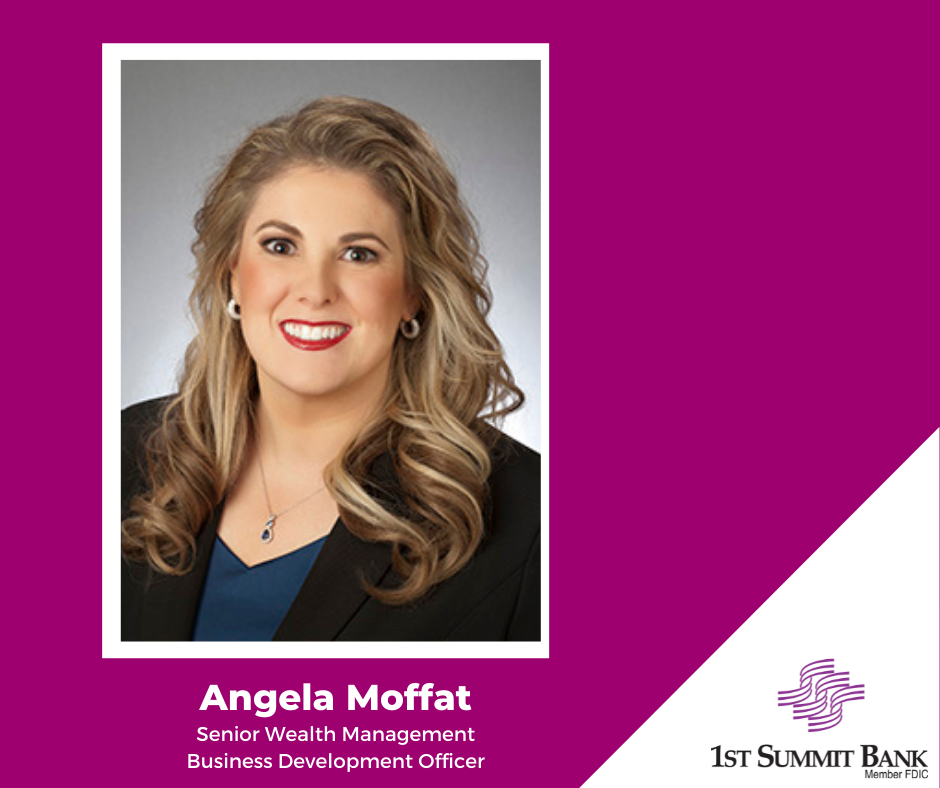 1ST SUMMIT BANK is proud to announce the appointment of Ms. Angela Moffat as AVP and Senior Wealth Management Business Development Officer, covering Westmoreland, Indiana, and Somerset counties.
In this position, Ms. Moffat will provide expert guidance and innovative solutions for the planning needs of both individuals and businesses in retirement planning, investment and insurance services, education funding, and employee benefits. Whether someone is looking to retire comfortably, protect their assets, look for a better return on investment, or save for college, her goal is offer practical ideas and build a plan that customers have confidence in.
Ms. Moffat has over 13 years of experience as a Financial Advisor which includes investments, insurance, and retirement planning. She is a Registered Representative of Infinex Investments, Inc., and she holds a Life, Accident, and Health Insurance license as well as Series 6, 7, 63, and 66 registrations. Also, she is designated as a Certified Retirement Counselor.
"I am very excited to have Angela join our team," said Domenic Cagliuso, Sr. Vice President and Trust & Investment Services Manager. "She brings such a strong combination of banking and financial advisory experience, and I believe she will make a considerable impact in our community."
Ms. Moffat serves on the Board of Directors for the Westmoreland Intermediate Unit Foundation which provide supplemental support to students, teachers, and educational programs throughout Westmoreland County. She also served with the Pennsylvania Army National Guard for nearly 10 years.
She is a graduate of Indiana University of Pennsylvania with a Bachelor of Science in Finance. Currently, she lives in Ligonier with her husband and two children.

---
About 1ST SUMMIT BANK –
A true community bank for the past 97 years, 1ST SUMMIT BANK primarily focuses on relationship banking for both consumers and businesses within our region. Altogether, 1st Summit Bank provides banking, financial, and investment services throughout the counties of Cambria, Somerset, Indiana, Westmoreland, and Blair.
About Infinex Investments inc. –
Investment and insurance products and services are offered through INFINEX INVESTMENTS, INC. Member FINRA / SIPC. 1ST SUMMIT Financial Partners is a trade name of the bank. Infinex and the bank are not affiliated. Products and services made available through Infinex are not insured by the FDIC or any other agency of the United States and are not deposits or obligations of no guaranteed or insured by any bank or bank affiliate. These products are subject to investment risk, including the possible loss of value.